How to File an Application to Omit Information (s. 40)
Who can file an Application to Omit Information: 
An individual may file a request to omit or obscure some or all of the individual's primary identification information in publicly accessible information in the LOTR, if the individual believes that making that information publicly accessible could reasonably be expected to threaten the safety or mental or physical health of the individual, or a member of the individual's household.
An application to omit information may only be made if the transparency report containing the information to be omitted has been filed.
Use myLTSA to Create Form
To file an Application to Omit Information, legal professionals must use a myLTSA Enterprise account, and individuals must use a myLTSA Explorer account. The only exception to this is for applications under section 40 of LOTA where filing electronically would create an undue hardship. In those cases, the applicant must contact the Administrator to request a paper form for the application.
For myLTSA Enterprise users:
To file an Application to Omit Information, navigate to the Submissions tab and click on Land Owner Transparency Registry: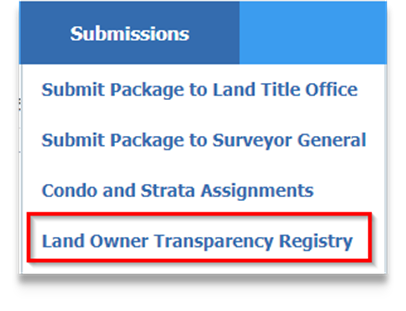 Then select Application to Omit Information s. 40 under the Other Services section to start the filing process.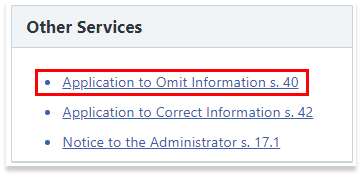 For myLTSA Explorer users:
Select Submit an application to omit information from being publicly accessible if health or safety at risk to start the filing process: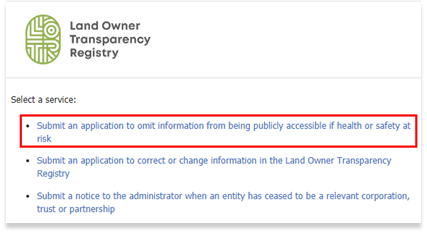 Complete the Application
Fill out all necessary information about the applicant on the form: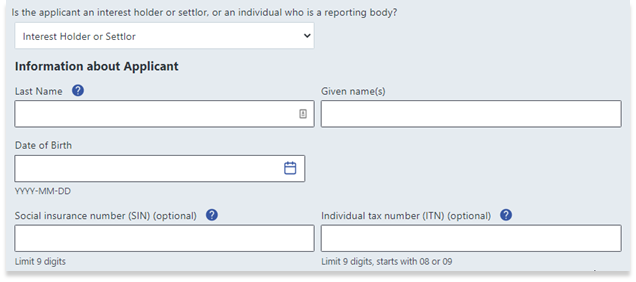 If the applicant is a reporting body, the applicant will also need to include the Transparency Report ID:

To upload a government-issued photo ID of the applicant, drag and drop a photo file to the dashed box area:

Enter the file reference (for myLTSA Enterprise users only) and the parcel identifier (PID). The PID can be found using BC Assessment or ParcelMap BC.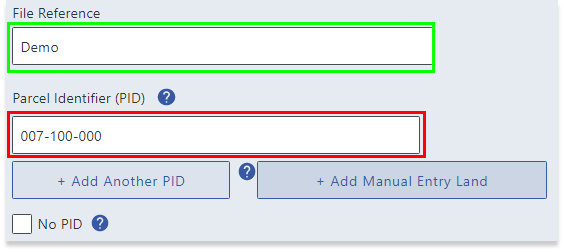 Select which information the applicant is requesting to be omitted or obscured in LOTR:

Answer the question, "Is this application being made because of an expectation of a threat to the applicant or to a member of the applicant's household?"
Provide specific details explaining the reason for filing the application, and attach any relevant records, information or verifications to the application. To attach a file, drag and drop to the dashed box area: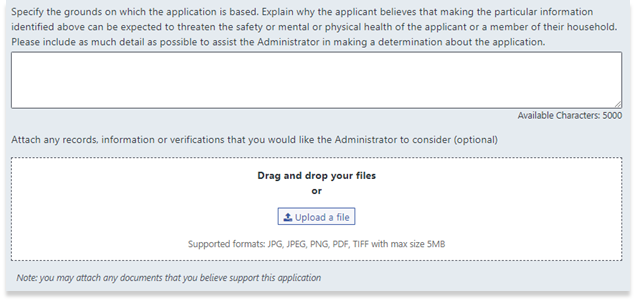 Fill out all necessary fields in the Address for Notice to the Applicant section: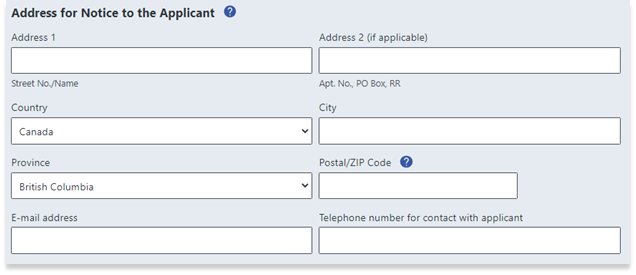 Submit Form and Pay Fee
Click the button to confirm that all entered information is correct and complete, and then click Submit and Proceed to Payment:

Click the Order button on the Confirm Your Order page to pay and submit the application.  myLTSA Explorer users will enter credit card information to pay the associated fees for the application, while myLTSA Enterprise users will have the fee deducted from their account.

A message will be displayed to indicate payment has been made and the application has been submitted to the Administrator: