How to Complete a Transparency Declaration in myLTSA
Requirements for a Transparency Declaration:
A transparency declaration is required when an application is made to register an interest in land as defined in in LOTA. Filings are required to be submitted electronically by a legal professional.
An interest in land is defined in LOTA as any of the following:
an estate in fee simple,
a life estate in land,
a right to occupy land under a lease that has a term of more than 10 years,
or a right under an agreement for sale to occupy the land or require the transfer of an estate in fee simple.
Create a Transparency Declaration
To begin a filing from any page of the LTSA's Electronic Filing System, roll over Submissions and click Land Owner Transparency Registry: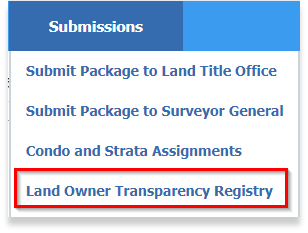 Then select Go to LOTR Filings: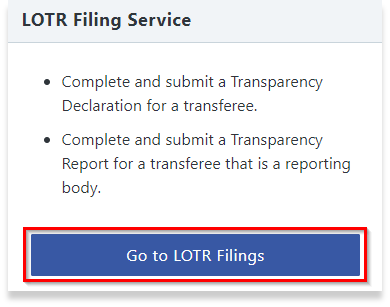 Click on Create Transparency Declaration to start the filing process.
First time filing view: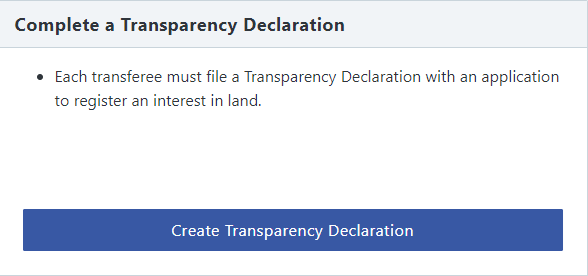 Subsequent filing view:

Property Information
To upload multiple parcel identifiers (PIDs) to one transparency declaration click on the Save Progress button to first save the Transparency Declaration and get a filing number assigned.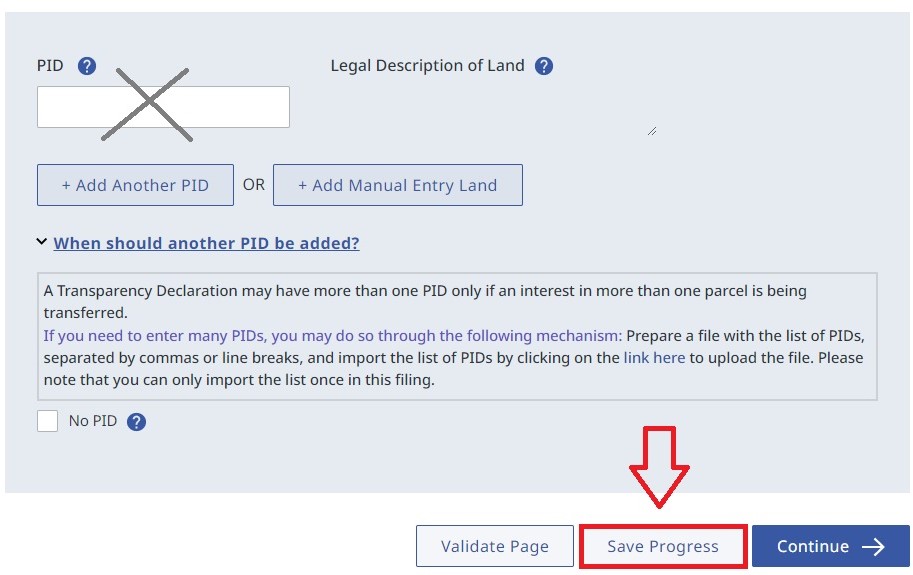 Once saved, click on the link in the help section at the bottom of the screen where PIDs are entered. Do not manually enter any PIDs.  

Select Choose File to upload a .CSV or .TXT file. No other formats can be uploaded.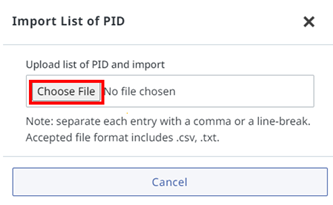 As this is a one-time link, ensure all your records are added to the .TXT or .CSV file you are uploading.  You are now ready to proceed with your filing.  
When the Transferee is a Reporting Body
If a reporting body is indicated in the Transferee section, a transparency report will be automatically created and will need to be completed. The transparency report will be found on the View All Records page (also known as the LOTR dashboard).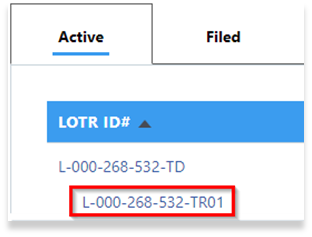 Certification
The transparency declaration must be certified by an individual who has actual knowledge of the matters and be authorized to certify on behalf of the transferee by signing the execution copy. Certifiers must 'wet-ink' sign the execution copy. There must be at least one certifier for each transferee. Visit the Resources page for more information about the process for certification.

Submission and Payment
Once certified, the designate can e-sign the completed form using a Juricert Digital Certificate and pay the LOTR filing fee.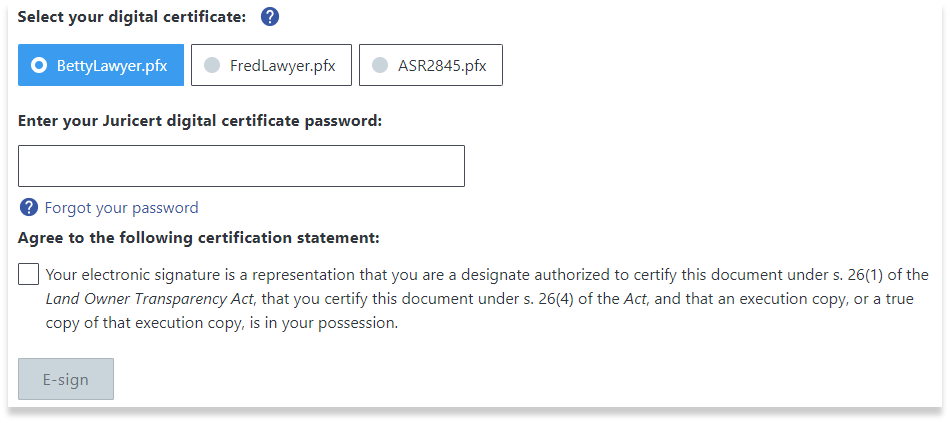 To pay the fees, click the Pay LOTR fees button after e-signing. If you are filing a transparency declaration with transparency report(s), please e-sign both the declaration and any attached report(s) before paying.

The status of the form is now Ready for Submission with a land title application. Take note of the transparency declaration ID, as you will need to associate this number with the corresponding land title application. Visit How to Submit a LOTR Filing in myLTSA to learn more.

Make changes to a Transparency Declaration
A change is still possible even after signing the transparency declaration as long as it has not yet been submitted to the registry. However, it will be necessary to have the certifier(s) sign and date the new copy before the legal professional can re-apply their digital signature to the form. Once submitted, a transparency declaration can no longer be corrected.
Restore a deleted Transparency Declaration
If a transparency declaration (with/without a transparency report) has been accidentally deleted, it can be recovered for up to 30 days after the deletion.  To recover the form(s), go to the Deleted tab and then select Restore from the More drop down button.